Details

Category: USMJParty
Published on Monday, 22 December 2014 16:21
Written by Sheree Krider
Hits: 51
Dear Friends,
This past year has found me all over the map. I attended the SE NORML Conference on March 3rd in Atlanta, GA I represented the party in Hartford, CT at the 2nd Annual HempCT Hemp Awareness event on May 3rd. True to form I did my yearly duties on the Fourth of July in Washington, DC at the 45th Annual Smoke-In at the White House speaking and as Grand Marshal for the Cannabis March from the White House to 23rd & Constitution. This past September in Portland, OR I attended an organizational meeting for their Hempstalk plus went to a fundraiser for Oregon's Initiative 91. My last foray out of state was helping to organize the first ever Jazz Funeral for Marijuana Prohibition on October 3rd in New Orleans, LA.

In my home state of Colorado I have kept abreast with all that is cannabis. Attended a few city council meets. Sat in on State Legislature hearings. Attended the High Times Cannabis Cup in Denver during 4/20 week. Did two head shop conventions and two cannabis trade shows.

All this fits into my philosophy of, "I show up, I do the work, and I hope and pray for positive results."

So as we wrap up 2014 I impart on you. Show up, do the work, hope and pray for positive results in 2015. It has worked for me and it can work for you and your desire to see the repeal/reform of the cannabis laws wherever you live. Write letters to the editor, email your government officials, comment on social media sites, donate $ if you can, volunteer with whatever cannabis law reform organizations are in your area. Get to know your representatives on all government levels, be creative but most of all be positive. You can be the change.

Have a safe Holiday Season. Wishing you and your's a prosperous New Year. 2015 is going to be the teetering point in cannabis' favor. Like Hunter S. Thompson quipped, "Buy the ticket, take the ride." The cannabis dominoes are tumbling and tumbling fast.

Peace, Pot, Politics

Wayward Bill Chengelis

Chairman, US Marijuana Party
Chairman, US Marijuana Party of Colorado
Board Member, Louisiana Cannabis Coalition
Co-Organizer Denver 420 Rally
Yippie
Details

Category: USMJParty
Published on Monday, 02 January 2012 15:23
Written by Richard Rawlings
Hits: 378427
Details

Category: USMJParty
Published on Friday, 31 December 2010 18:00
Written by Richard Rawlings
Hits: 18831
List of U.S. Marijuana Party Chapters
Colorado - William (Bill) Chengelis

Illinois - Richard Rawlings (deceased Feb 24, 2013)
Oregon - Jim Johnson  
Texas - Chuck Miller
Utah - Robert (Bob) Hawthorne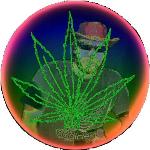 More forthcoming!
Current "Reporting Chapters"

Florida - Sandy Carl

Hawaii - Kenneth Peeler

Virginia - Cindy Spencer and SSG John Johnson III.