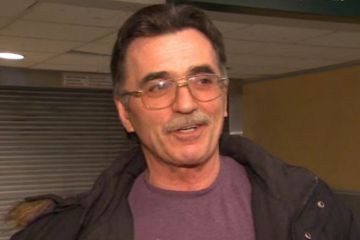 Canadian Bob Erb speaks to CBC News about his $25-million lottery prize. (CBC/Screengrab)
A Canadian man and former Marijuana Party political candidate has a new source of financing for his fight to legalize it: a $25-million lottery prize.
Bob Erb of Terrace, British Columbia, won the money on Friday night, splitting the $50-million jackpot with a group of oil workers in neighboring Alberta.
"I just went in, checked the lottery ticket — 25 and a whole bunch of zeroes," Erb said, according to CBC News.
"I pulled the ticket out (of the machine) and I said, 'Oh my God. I think I won $25 million.'"
He collected his money today from B.C. Lottery Corporation, but the winning ticket almost didn't happen.
More from GlobalPost: Pensioner finds $23-million lottery ticket in her car just in time
On his way to his father's funeral in Calgary, Erb purchased tickets from a gas station stop during the trip. A store clerk misunderstood his request, and gave him an extra ticket.
"He (cashier) was going to delete that one. I said 'I might as well take it, it might be the one,'" Erb told his hometown newspaper, The Standard.
A seasonal construction worker, Erb said he intends to continue working. He plans to spend money on charity, family, oh, and "the legalization, decriminalization of marijuana."
Erb ran for the B.C. Marijuana Party in the 2001 provincial election, finishing third among five candidates with 810 votes in the electoral district of Skeena. The winner had 8,653 votes.